Dave! Dave! Dave!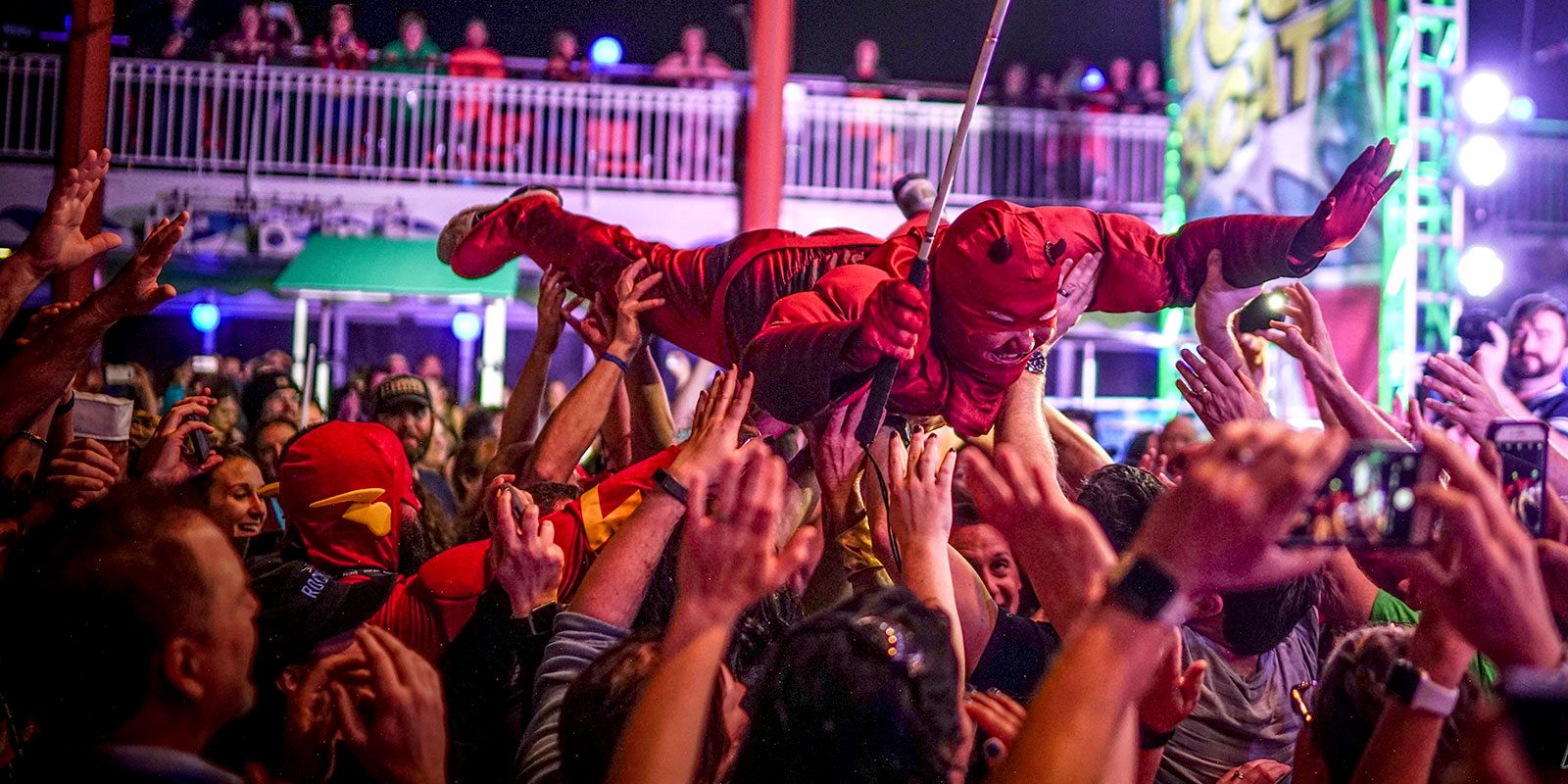 Moments That Make Life Rock
Dave! Dave! Dave!
"What happened changed the fabric of my world forever."
"And God said, let there be light"! As someone who is blind, I couldn't have understood the gravity and magnitude that The Rock Boat would have on my life and the world. After a year of intense hell (a multitude of catastrophic events), I was nearly crippled by a car that ran a stop sign. Through the heroic sacrifice of my guide dog, Simon, he saved me and my then 4-year-old son. I was in a very bad, dark place! My wife, Kate, and I were nominated for a "scholarship" to sail on The Rock Boat in 2014. My friend and business partner had been sailing on the event since 2003, so I knew about the fantastic music and the antics but had never cruised. So true virgins we were, and what happened changed the fabric of my world forever.
The story is very convoluted, but suffice it to say Gaelic Storm's singer, Patrick Murphy, brought me on stage to publicly apologize for unwittingly ragging on "the Blind Guy" in the crowd the night before. TRB magic enveloped the entire Pool Deck, and Pat & I hit it off royally! He brought me up on stage to dance for "Darcy's Donkey" and in the heat of the moment, they sent me out crowd surfing! Now, I had never crowd surfed but as I was being passed all over the Pool Deck, with the crowd shouting, "Dave! Dave! Dave!", I felt the darkness surrounding me disappear.
My eyes were now wide open, and I saw the "light." I was healed. No more demons, no more pity party, I was filled with the power of the Rock Boat spirit! I was never alone after that moment, and I had truly become one of the Rock Boat Family. The final night, I was honored to present Gaelic Storm in the Stardust Theater, and even got to hit the cymbals for "What's the Rumpus". Naturally over the years, Dave the Blind Guy has gotten into some shenanigans and has loved every minute of it.